Another Man – Issue 28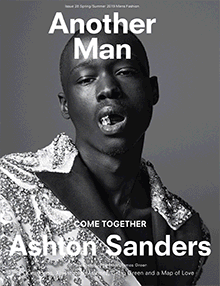 This season, Another Man orbits planet Earth for a global gathering of creativity and positivity. With shoots from Japan and China to India and the Moon, and art projects exploring imaginary, hidden realms, Spring/Summer 2019 is a soulful celebration of the world we live in, real and unreal...

ASHTON SANDERS fronts two powerful covers, photographed by Ethan James Green and styled by Alister Mackie. In a second pair of iconic covers, photographer Keizo Kitajima and stylist Ellie Grace Cumming hit the streets of Tokyo to capture the fantasy-futurism of the DIOR pre-fall 2019 collection.